"Who is the werewolf?" parlor game
There are dangers in the night… This criminal and intents parlor game awaits in Kallaste Talu- Turismitalu & Holiday Resort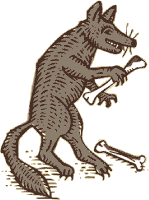 There are vicious beasts lurking outside your homes – hungry werewolves come out at nightfall. Turning daytime the village has to decide whom to kill accused of being a werewolf.
This exciting parlor game will test your ability to accuse others, defend yourself and read other players to figure out who to trust and who is your enemy. If you are a werewolf you must have a good poker face, because turning daytime you are just a regular villager.
The game is played so that all  people are sitting in a circle. There is very little movement.
"Who is the werewolf?" parlor game
Participants: 7-30
Price: € 9 / participant
This parlor game is suitable for all ages and activity levels.
Let this criminal parlor game boost up your event excitement levels. It is suitable for all kind of events: corporate summer retreats, seminars, birthdays, company events, weddings etc.