Upper Complex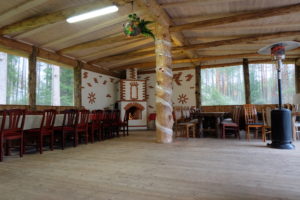 The Upper Complex consists of the Main Building, the Courtyard House, Hut Berta, Hut Mari, Hut Aili and Hut Helmi and the sauna Heino.
The come-together arranged in the Upper Complex may take place either in the hall of the main building or on the terrace.
The size of the hall is 75m² and the terrace 150m², the rooms are connected by a door. In the corner of the terrace there is a small stage for live music or making speeches. The toilet is located just by the hall. If the hall and the terrace are used at the same time, about 150 people may be hosted. There is a TV-set and a sound system in the hall, but as the terrace is really big, the sound system has to be brought along or rented separately from us.
The hall and the terrace may be decorated according to your wishes.
There are 3 rooms for accommodation in the main building, 4 in the courtyard house and 4 huts – altogether it makes 11 rooms for accommodating for up to 50 guests. In addition tents may be used.
If you want to rent only the Upper Complex, you have to know that the Rock Stage, the Adventure Park or the Lower Complex are not included. These places may be used by other people unless agreed otherwise.
Upper Complex