Holiday Resort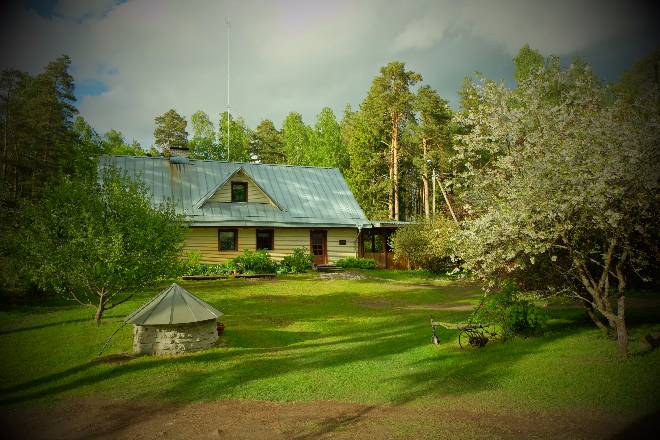 For 130 years already people have come here in the ancient pine grove on the high bank of the fabulous river Kloostri to enjoy each others company. Beautiful memories in Estonia are created and re-created here now and again. Adventures, magnificent nature and kind hosts – there are millions of reasons to come together. Our Holiday resort also welcomes your pets!
Holiday Resort in Harju County Estonia – only 45 km from Tallinn
Rustic, beautiful and memorable Holiday Resort in Estonia

Accommodation (cottages, deluxe rooms, camping etc.) 

Saunas and swimming places
Seminar rooms and venues.
Beautiful forest and landscapes

Points of interests are near (

Padise Monestery, Paldiski, Haapsalu, Rummu lake and mountain, Tallinn old town, Pakri islands, Padise horse stables, Kalju-lava summer stage

)
Active Holiday (Disc-Golf, shooting gallery for bow, crossbow, air rifle, Adventure Park, Farm Animals and a lot more)
Catering
Kallaste Talu – Turismitalu & Holiday Resort is perfect for events like weddings, corporate events, birthdays but also seminars and conferences.
From Sunday to Thursday our Holiday Resort is also open for smaller groups and solo travelers. 
Simple forest cottages or convenient deluxe rooms in Johannes House are ideal for family holiday. What can be better than to spend time with your family in the forest, feed domestic farm animals and BBQ yourself by the fire? – See more details Family Holiday. We offer peaceful accommodation in the beautiful Estonian nature – only 45 km from Tallinn and its Old Town.
The farm is perfect for all kind of family celebrations – weddings, birthdays, reunions… If you dream of rustic or nature inspired wedding – you are in the right place! 
Seminar rooms and Company events – all events will be memorable and amazing!
Seminars and company events acquire a special aura and a good feeling. Nature generates a creative mood and people are more open to new ideas. Our peculiar North Estonian landscape creates a variety of challenging opportunities for organizing different games and team work. – See more details seminars / Events.
Kallaste Talu Holiday Resort offers facilities and venues for different kind of events. All in all – up to 85 people can be accommodated here, however, it is also possible to stay in tents and than the total number of people staying is according to your needs.
The Lower Complex venue (Ella, Hilja and Johannes) is meant for a smaller group of people for a private hide-away, accommodating up to 25 guests.
The Upper Complex (the main building, the courtyard house, Cottages: Berta, Mari, Aili, Helmi, sauna Heino) are meant for about 50 guests staying overnight (when planning – it is advised to discuss how many people are accommodated in one room – to better meet your requirements).

You can separately rent the open-air stage (Kalju-lava venue ) for events/concerts/seminars. The Open-air Stage is big enough for 1050 people.

We also have one small sauna complex – for bonfire, camping and having fun. For 2 – 15 guests (accommodates 4)

The whole Complex is rustic event venue, but comfortable and beautiful. There is a big summer hall that fits up to 150 people and 85 people can be accommodated.
Active Holiday is the best way to take some time off !
Our Holiday resort offers a variety of activities for an active holiday such as adventurous team training, the game of Disc-Golf, the tour to Pakri Islands, Archery, Farm Bread making course and many other exciting possibilities – for more details see active holiday. In the animal park you can see cute Cameron goats hopping about, the geese proudly waddle around and cuddle soft bunnies. There is a playground and a trampoline for children. During summer various cultural events take place on the open-air stage (see closer here).
Catering
Looking for delicious local food for your event? Look no further – we can arrange pretty much anything you think you need. We also have some partners with who we team up for bigger events.
You can order delicious dishes from our holiday resort, however this is not mandatory and you can prepare food on your own or order a catering firm. The same applies to drinks. For more details see catering.
So all in all:
Visit Estonia and our beautiful Holiday Resort and event venues !

Near points of interest:
~ 0,4 km Kalju-Lava summerstage and  0,8 km Padise ancient Fort Hill
~ 1,2 km medieval Cistercian Monastery and Padise Manor
~ 5 km Rummu lake and ash hill (mine) and old Prison
~ 7 km Madise Church
~ 10 km Kurkse port and way to Pakri Islands
~ 19 km Valgejärve hiking trail (wooden trail on swamps)
~ 25 km Paldiski city, Pakri lighthouse and Pakri cliffs
~ 47 km Tallinn Old Town and museums
~ 55 km Haapsalu city and old Castle