Camps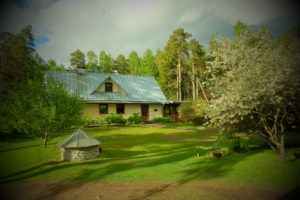 Children's – sports – singing – cooperation – all camps are welcome !
The farm started its activity as the organizer of children's camps 17 years ago. During our development work we have thought a lot about the activity of children's groups and different options here.
We rent the rooms of the holiday resort to the organizers of project camps. We host different camps every year. Mostly sports and children's camps organised by other organisations and schools and also shorter choir and dancing rehearsals.
We offer the organizers a package price for accommodation and catering, that is cheaper than our normal fees. The price depends on the age of the people, their number and the duration of the camp
ask for a special offer for camps!
The nature here is really amazing and Tallinn City is only 45 min drive away. So our holiday resort is perfect place to have a camp for juveniles or adults. At site we offer many interesting and enthralling activities as Padise adventure park, farm animals to pet, shooting gallery for bow, crossbow and air gun and Disc-Golf – see details under: Active holiday.
We can accommodate as many as 80 people, but it is the maximum, we recommend about 60. We do not have a minimum number of people for your camp.
[tribulant_slideshow gallery_id="31″]