Barrel ride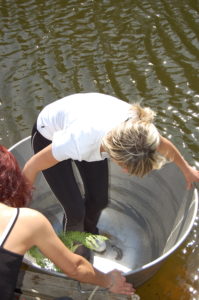 If you want to experience something funny, we suggest a barrel race. We have a special cauldron for that in the pond – the activity requires balance and courage! The activity requires good balance – a competitor climbs in the cauldron and tries to keep balance. Usually the attempt ends with a swim in the pond. An experienced instructor teaches the secrets of the cauldron and instructs the competitors. The duration of the activity depends on the size of the group. The Barrel Race suits smaller groups or for bigger groups as an additional activity.
Price of the Barrel Ride: (37,5€ + km) 45€ / per hour (for the whole group)
Barrel ride – For those who seek laughter – beware SKILL needed !