Free falling / Tarzan's leap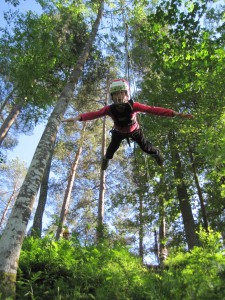 Are you addicted to adrenalin or need a restart, want to experience something extraordinarily crazy and overcome your fears and complexes. Finally say YES because you did it? Then this is the right place for you – Padise Adventure Park is waiting for you!
Everything seems so easy when standing under the tree. You may think it is nothing special: I will climb up and then jump down but nothing is as easy as it might seem. Free falling is recommended as a separate element or a part of a daily team training
together with Zipline adrenalin evening
a surprise for friends/colleagues
a preparation to parachute jumps
a surprise at a bachelor or bachelorette party or even at the wedding
Price: (8.33 €+VAT) 10€ / per person. The cost includes two jumps per each participant. Additional jump 5 €
Free falling / Tarzan's leap – In Kallaste Holiday Resort your spirit will also become bright !