Padise Monastery and Stronghold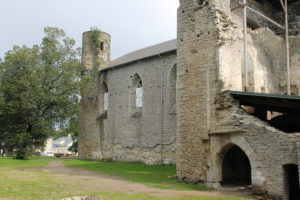 A hike to the historical stronghold and Padise Monastery! The hiking trail takes people interested in nature and culture to the ruins of Padise Monastery through blueberry forests and heather groves. The hostess talks about interesting facts from the history of the monastery. The monastery is about 1.5 km from the farm. NB! If interested, a hike to the monastery with torches at night may be arranged (price based according to the agreement).
Price: 5€ / per person
Group size: 10 + 
time: 1,5 – 2,5h
Padise Stronghold site
known among people as Vanalinnamägi (Old Stronghold Hill). is about 0.8 km away from Kallaste Tourism Farm along the forest path. It dates back to the Middle Iron Age (7th-8th century) and is a place of a stronghold founded on a headland in the river bend.
Padise Monastery
is about 1 km from the farm. The construction of Padise Monastery lasted for more than 200 years due to breaks that occurred in the construction in the 14th-16th century. By the year 1343 the ground floor and a part of the walls of the main floor were completed before the St. George's Night Uprising, during which the monastery was burnt down and 28 Cistercian monks living in the monastery killed. The consequences of the devastation could be overcome only by the year 1370, when the interrupted construction work of the monastery complex was continued. The ceremony of inauguration of the main buildings took place in 1448. During the Livonian War in 1559 Padise Monastery (Die Abtei Padis – in German) finished its activity.
Padise Manor was in the possession of the noble family von Ramm until the dispossession in 1919. The last owner of the manor was Fridolf von Ramm. The Family von Ramm is in Padise Manor today and run a hotel and restaurant there.